Description
If your lamp housing looks like the one in the last picture, the conversion kit will not fit your Unimog. The servomotor is too big and does not fit into the waterproof housing, you would have to cut a hole in the back …
From 1985 to 1992:Daimler-Benz renewed the entire series with the 407, 417, 427 und 437 series.
The 407 series replaces the old 421 series, the 417 series replaces the 403/406/413/416 series. The main distinguishing feature of the two new types is the now modernized cab with a larger and steeper windscreen and more headroom. In the U417, the headlights have also been moved from the radiator grille to the bumper.
From 1992 to 2000: The new light and medium series 408 (U 90) and 418 (U 110, U 140) replace the previous models 407 und 417. The focus is on a completely redesigned cab. What is particularly striking is the very sloping front section, which gives a good overview to the front. If necessary, the bonnet is fitted with an asymmetrical viewing channel on the driver's side, which allows a good overview of the connections and attachments.
If sold out, then about 14 days delivery time! Please write me a short email to info@lwr-shop.de
---
Notes on the appropriate conversion kit for the LWR: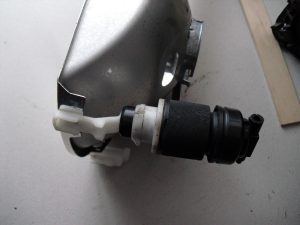 Type MB T1 or T2 or T2N or T2W (Vario) or Unimog (Headlights are all identical):
If the headlight has a plastic housing on the back and the (old hydraulic) adjustment looks like this picture then this conversion kit will fit your vehicle: MB T1, T2, T2N, T2W (Vario) or Unimog
---
New conversion kit C.HEL.24N.RSMLSTD
Ready-made electrical LWR conversion kit as a replacement for the hydraulic headlight range control for 12 volt vehicles, consisting of:
2 new servomotors
1 new round LWR switch for the interior
very detailed illustrated installation instructions
Various installation materials
1 cable set (new and suitably assembled)