Description
Jeep Cherokee is the name of several four-wheel drive off-road vehicles that were originally manufactured by AMC and are now produced by Chrysler. From the XJ model, it was also offered in Europe.
First generation (1984-1996)
In 1984 the Jeep company launched a new generation of off-road vehicles. The vehicle, which is rather small in size by American standards, fit perfectly into Europe and benefited from the boom in off-road vehicles in the early 1990s. Initially equipped with a 2.8-liter V6 engine from AMC or a 2.5-liter in-line four-cylinder, the Cherokee became available with the installation of the 4.0-liter six-cylinder engine, developed in-house by Jeep a successful model.
The original version of the Jeep Cherokee was also available as a two-cabin pickup under the name Comanche with the same engine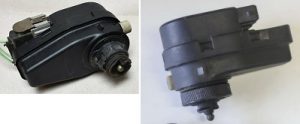 These originally installed Valeo servomotors (variant B) are no longer available.
Since the control as well as the bayonet lock of the servomotor is very special and unfortunately there are no more spare parts for it, there is only a complete replacement of the complete LWR with this conversion kit.
Please make sure to compare the power connection of the servomotor with the pictures as well as the number of fastening lugs on the servomotor.
If it is identical to your servomotor connections, then this conversion kit fits perfectly.
However, if your servomotor has 3 contacts for the power connection and 3 fastening lugs, then you should better choose variant A and thus only replace the servomotors. (Option B would also fit, but you don't need the new LWR interior switch or the pre-assembled cable set.)
The difference between the two variants lies on the one hand in the attachment of the servo motors and on the other hand in the control of the servo motors.
If you have servomotors with 4 fastening lugs, the switch in the interior must also be replaced as it does not harmonize with the new servomotors.
Possible variants:
Repair kit for headlight range control Daimler-Chrysler Cherokee XJ (Jeep) (LWR), consisting of 2 new replacement motors K.EGA.24N.OOMLMOT
Variant A: Only for vehicles with a 3-pin power connection for the servomotor and 3 fastening lugs!
Conversion kit for headlight range control Daimler-Chrysler Cherokee XJ (Jeep) (LWR), new conversion kit C.HEL.24N.RSMLSTD
Variant B: Only for vehicles with a 6-pin power connection of the servomotor and bayonet lock with 4 fastening lugs!
---
Scope of delivery variant B:
New conversion kit C.HEL.24N.RSMLSTD Pre-assembled electrical LWR conversion kit as a replacement for the defective headlight range control in vehicles with 4 fastening lugs of the servomotor, consisting of:
2 new servomotors
1 LWR switch for the interior
very detailed illustrated installation instructions
Various installation materials
1 cable set (new and suitably assembled)