Description
Mercedes-Benz T 2 (new), type: 667, 668, 669, 670
The second, completely newly developed generation of the T 2 came on the market in 1986 and was built until 1996.
The hood had become a bit longer, the design overall more angular.
Although the term "Vario" was only introduced in the third generation, it is often used in "normal language"
– due to the almost identical appearance – also applied to these vehicles. The T 2 (new) was primarily equipped with diesel engines.
The following diesel variants were available: 507 D, 508 D, 511 D, 609 D, O 609 D, 611 D, O 611 D, O 614 D, 709 D, 711 D, 714 D, 809 D, 811 D, 814 D and 814 DA
(A stands for all-wheel drive here).
The Mercedes-Benz 510 model was the only T 2 (new) with a gasoline engine, the M 102.
In times of high diesel prices, the 510 enjoyed increasing popularity as it was suitable for conversion to LPG (liquid gas).
In 1991/1992, production of the T 2 was relocated from Düsseldorf to the Ludwigsfelde plant, where the successor model Vario also rolled off the assembly line from 1996 (until 2013).
---
Notes on the appropriate conversion kit for the LWR: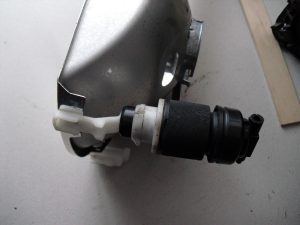 Type MB T1 or T2 or T2N or T2W (Vario) or Unimog (Headlights are all identical):
If the headlight has a plastic housing on the back and the (old hydraulic) adjustment looks like this picture then this conversion kit will fit your vehicle: MB T1, T2, T2N, T2W (Vario) or Unimog
---
New conversion kit C.HEL.24N.RSMLSTD
Ready-made electrical LWR conversion kit as a replacement for the hydraulic headlight range control for 12 volt vehicles, consisting of:
2 new servomotors
1 new round LWR switch for the interior
very detailed illustrated installation instructions
Various installation materials
1 cable set (new and suitably assembled)