Description
The Mercedes-Benz Vario (T2W-Series) is the successor to the Mercedes-Benz T 2.
It was built from 1996 to 2013 at the Ludwigsfelde plant.
The external differences to the predecessor are quite small – headlights, indicators and grille have been redesigned, but the interior has also been redesigned.
T 2 denotes a series of vans that was built by Daimler-Benz from 1967 to 1996.
The T 2 is also known as the Düsseldorfer Transporter (hence also called "DüDo" by enthusiasts and collectors), as it was built at the Düsseldorf plant until 1991/1992; The transporter was only given the designation T 2 later after the introduction of the smaller T 1.
The T 2 was then produced in the Ludwigsfelde plant, where the IFA W50 and L60 were built until 1990.
Since the second generation, the model has also been assembled in the Spanish assembly plant in Alcobendas.
With the generation change to the third generation, the T 2 series was given the name Vario.
---
Notes on the appropriate conversion kit for the LWR: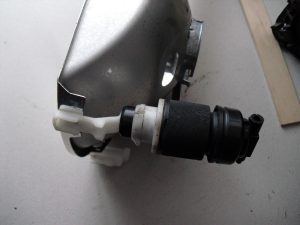 Type MB T1 or T2 or T2N or T2W (Vario) or Unimog (Headlights are all identical):
If the headlight has a plastic housing on the back and the (old hydraulic) adjustment looks like this picture then this conversion kit will fit your vehicle: MB T1, T2, T2N, T2W (Vario) or Unimog
---
New conversion kit C.HEL.24N.RSOL-24
Ready-made electrical LWR conversion kit as a replacement for the hydraulic headlight range control for 24 volt vehicles, consisting of:
2 new 24 volt actuators
1 new round LWR switch (24 volts) for the interior
very detailed illustrated installation instructions
Various installation materials
1 cable set (new and suitably assembled)